Refurbished vacuum furnaces
Used, second-hand and reconditioned vacuum furnaces for sale
At VFE we can offer you a reliable, guaranteed vacuum furnace to suit your budget.

As well as offering brand new vacuum furnaces, we also have a range of refurbished processing equipment available to purchase.

These vacuum furnaces are fully reconditioned and tested by our team of experts. Normally offered with all new control instrumentation and electrics they allow customers with a restricted budget to acquire a vacuum furnace that is fully supported by VFE's unrivalled after sales service.

If you'd like to see the full range of refurbished vacuum furnaces in stock or you have a specific model in mind, please fill in the form and we'll be in touch.
What are the benefits of buying refurbished units?
There are many benefits to buying refurbished units. Going down this route is much less expensive than buying brand new equipment. Refurbished machines are often warranty protected. It costs much less to customise them compared to new, bespoke items. And when professionally refurbished, they are just as reliable as off-the-shelf solutions.
How reliable is refurbished equipment?
Refurbished equipment is described as such because it has been serviced, repaired, and maintained to a good (legally compliant) standard. Industry legislation leaves no room for sub-standard refurbishment. Assuming it's been refurbished by the manufacturer or a fully certified third-party, second-hand equipment is just as reliable as when bought new.
Will using refurbished units impact my compliance?
No. Just because a part or machine hasn't come direct from the manufacturer, that doesn't mean you'll automatically fall foul of any compliance faults. If anything, a used item should have a comprehensive history of test certification and maintenance records, giving you an accurate snapshot of its performance capabilities, overall condition, and state of compliance.
How much cheaper is refurbished equipment compared to buying new?
Processing equipment of any kind is a sizable investment. But refurbished vacuum furnaces or autoclaves are significantly less expensive than buying new, and in some cases, savings can be as much as up to 50% as the value of the machines is driven down by time and the launch of newer models. For exact savings, reach out to your dealer for more information.
Can I have a trial period?
Many suppliers will offer trial periods of varying lengths and conditions, so you can buy used with confidence, safe in the knowledge that if it's not right for you, you can always return the item before the trial period expires. To find out about our trial periods and whether or not the equipment you're interested in is eligible, get in touch for more information.
Available refurbished vacuum furnaces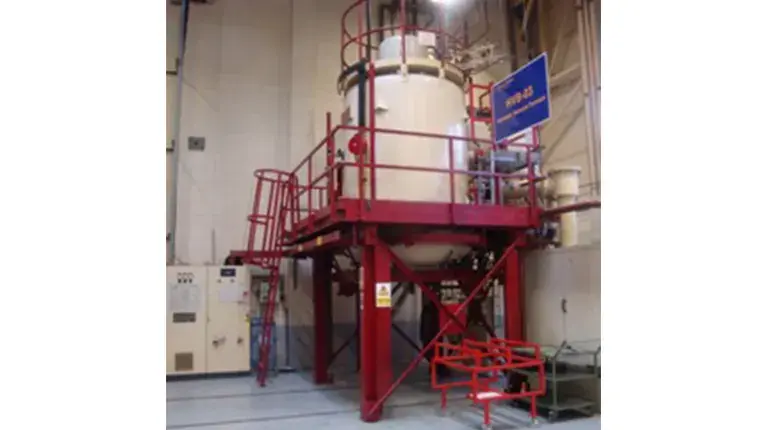 VFE refurbished Schmetz
(bottom loading vacuum furnace)
Working Volume Diameter 1200mm x 1200mm high
Max Temperature – 1250˚C
Working Vacuum – 10-4 mbar
Vacuum Pumping Group – Leybold – mechanical pump/Booster/Diffusion Pump
Gas Quench – 1 bar
Hot Zone / Hearing elements – Graphite – all new
All new Control System / Plc – Siemens S7 / In Touch Wonderware – NADCAP Compliant
Supervision of Installation / commissioning by VFE personnel
Warranty – 12 months
Delivery – Pre-delivery Acceptance at VFE 22 / 24 weeks
VFE 45-60
(vertical top loading vacuum furnace)
Floor space required – 3.5m x 2.0m x 2.5m
Working Volume Diameter – 350mm x 450mm
Working Volume – 43 dm3
Max. Temperature – 650 °C
Temperature uniformity in the hot zone in state of equilibrium 550 °C to 650 °C in an empty furnace – ±5 °C
Max. gross charge – 60kg
Heating elements – Nickel Chrome
Hot Zone – Ceramic Fibre Insulation
Ultimate vacuum (conditioned furnace) – ≤10-1 range mbar
Operating vacuum – 10-1 range mbar
Partial Pressure Nitrogen/Argon – 0.1 to 1.0 mbar
Power – 2.5 kW
Cooling Pressure – 0.9 bar(abs)
Cooling Gas – Nitrogen or Argon
PLC – Siemens
SCADA – VFE Furnace Control Management System
Terranova
(horizontal vacuum furnace)
Working Space – 300mm x 300mm x 900mm
Hot Zone Type – All graphite
Max. Temperature – 1200°C
Max. gross charge – 50kg
Operating vacuum – 10-2mbar range
Warranty – 12 Months